Wood Sheds
Wooden storage sheds are the best looking, easiest to design, build and customize.
Wooden storage sheds are the easiest to design, build and customize, especially on the inside. The interior of a shed made of wood can be altered to suit any purpose by adding interior framing for walls, shelving, bunk beds, work benches, etc…
A well built, nicely finished wood storage shed will add beauty and style to your property. Wood storage shed kits can be found in a wide variety of sizes, shapes and designs.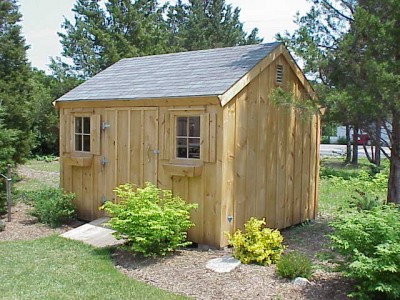 Wood sheds offer the most versatile designs and styles and are an excellent choice for anyone who needs a permanent structure on their property that will add some additional space. Wood sheds can be built in a variety of styles and sizes and can also be painted to match the color of your house.
Wood storage sheds most often have a shingled roof, which will allow you to match the same color as the roof shingles on your house. Wood storage sheds are often allowed in neighborhoods that have deed restrictions on the types of outdoor buildings you can have on your property.
Because they need to be painted or stained, storage sheds made of wood can cost more for maintenance in the long run, but the appeal of a nice wood shed cannot be matched by most metal or vinyl sheds.
A wooden building is the way to go if you are going to be using your shed as a garden cottage, home office, studio, camp or bunkhouse. If you are planning on spending some time in your shed, buy a wood shed.
Wooden sheds can be built with standard construction (studs, plywood) or post and beam construction. The post and beam sheds offer a more finished and rustic look inside.
Keywords: wood, wooden, sheds, shed kits, shed kit
---
Comments & Reviews:
No comments or reviews yet.