Duramax Sheds ~ Steel Reinforced Vinyl Sheds
DuraMax Sheds are strong, durable and low-maintenance. High quality materials and a superior warranty.
Duramax vinyl sheds and garages range from the 4' x 8' Sidemate all the way up to their 10' x 30' garage. They offer a broad range of storage solutions from small storage sheds to a large garages and workshops. Exterior is vinyl panels with galvanized steel framing in the floor kit, wall studs and roof structure.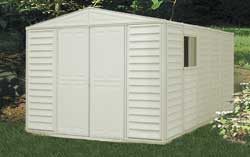 Duramax sheds are made of rigid vinyl (the most durable outdoor material) with steel reinforcement for super strength. All Duramax Sheds have been tested for high winds, snow loads, fire resistance and other stress conditions. If you are looking for outdoor products that can withstand the elements, then a DuraMax shed is for you.
The shed sized storage buildings are available in an extensive range of sizes, from the economical DuraMate 8'x6' to the WoodBridge 10'x13.
Duramax Shed Video: Covers the entire assembly of a Duramax Shed Kit from the foundation kit (floor frame) to the final door installation.

Check Pricing on Duramax Sheds: Click Here
Low Maintenance and Durable UV Resistant Vinyl
Will not peel, crack, discolor, corrode, rust or rot
Never Needs Painting
Fire Resistant
Steel Reinforced Walls and Roof Structure
Reinforced with galvanized steel wall columns delivering greater strength and rigidity
Roof truss system made of galvanized steel
Easy Assembly
All the parts are pre-cut, drilled and numbered
Tools: drill with #1 phillips head, hammer, measuring tape, pliers and ladder
Keywords: duramax sheds, vinyl shed, vinyl, storage building
---
Comments & Reviews:
Posted by
diana jaworski
from crivitz wis on 07/02/10
how do these building hold up to varmints in the woods. I am looking to add a shed up north by my cabin. I do not see anything in the warranty.
Thanks,
Diana
Posted by
harrison
from United States on 11/14/11
Duramax sheds are awesome. We moved into a house that had one that must have been 20 years old and it is still in great shape.
Posted by
Buddy
from CA on 02/29/12
bought one of the duramax sheds for myself last month. i did a lot of searching around for deals and the cheapest one was at shedsforlessdirect.com
i got it in about a week, set it up in less than a day, very pleased with it