Carport Kits ~ Wood, Aluminum, Steel. What's the Deal?
Carports and Carport kits. Metal, Steel, Aluminum and Wood. A Buyer's Guide.
Carports are an affordable solution for protecting your vehicle, trailer, boat, RV, van or car. Instead of building a garage or barn, a carport or carport kit is the only other affordable option. They are available in different styles and sizes. If you are planning on building a carport, there are many building material and style options to consider. The most popular carports are made of steel.
Carport Designs
The simplest carport designs are just a roof on posts, some are fully enclosed, or may have half walls, or a wall only on one or two sides. Carports may be freestanding or attached to a building or house. The roof style on carports will vary depending on the type of carport and the construction materials used. There are carports that are designed with an even pitch or gable roof, a hip roof, a shed or slanted flat roof, or a carport canopy with a round roof like a Quonset hut.

The one pictured here is from a European manufacturer and made from treated Nordic pine wood. These covercars are characterized by a front arch, thus avoiding the use of pillars at the entrance for easy maneuvering.
There are various carport building materials and building techniques to consider. The most common choices are wood or metal.
Do It Yourself Kits - DIY Carport Kit
Several companies offer kits which allow you to build your own carport. Carport kits will include all parts and accessories needed. The carport kits are shipped with detailed instructions. Wood carport kits are very popular in the UK and Europe. In the US, do it yourself wood carport kits are harder to find. There aren't as many choices, so most wooden carports are likely custom built by contractors. There are several choices of carport kits with metal or soft top roofs (carport canopy, see below). The soft top carport kits typically come in more sizes than the rigid metal roof carports. The most popular choices are the do it yourself steel carport kits. There is also a decent selection of carports and canopy shelters available on eBay.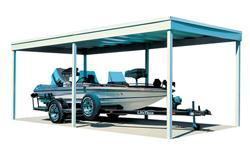 Top Selling ~ Arrow Carport Kit - Steel DIY
Available in 10' x 10' or 10' x 20' sizes. Easy to assemble. All carport parts are pre-cut and pre-drilled. Strong steel construction. Vinyl-coated. 15 year limited warranty. Check Pricing
Metal: Steel or Aluminum
Steel framed carports are usually made from tubular steel. Steel is popular for it's strength and durability. Steel is the best value for your money, but it is less attractive than aluminum or wood.
Metal can be stronger and more secure, and is typically fire-resistant, insect and termite proof and less expensive than wood. Metal is also more resistant to warping, rotting, and requires less maintenance than wood.
Aluminum carports aren't as popular as the steel ones, but they are very lightweight and require even less maintenance than steel.
Wood Carports
Wood carports are commonly built with a hip roof, gable roof or a flat, shed type roof. There are many different types of wooden carports available. Like a wood storage shed, a wood carport will have a higher aesthetic value than one made from metal. Building a carport with wood will allow you to match the look of your house. Wood also allows for more versatility going forward, like adding walls, built in storage bins, shelves, tool racks, a work bench, etc…
If the wood carport is designed properly from the start, it can be turned into a garage later on by adding the walls. Make sure if this is your plan to set the carport on proper footings so it will be compliant with your local building code if you decide to close it in later on.
Canopy Carports
There are several types of carport canopy or awning style carport covers out there. Most are galvanized steel pipe with a canvas or polypropylene canopy cover. Most of the vehicle canopies on the market have a round roof, curved roof or a gable roof. The pricing varies quite a bit on these due to the quality scale. Below is a sample of some carport canopy products available from Amazon.com.
Where to buy carport kits
Keywords: carport, steel, wood, aluminum, carport kits, carport canopy
---
Comments & Reviews:
No comments or reviews yet.