Rubbermaid Storage Sheds, Deck and Patio Boxes
Rubbermaid storage sheds. Horizontal and Vertical sheds, deck and patio boxes.
Rubbermaid storage sheds are built from a high strength polymer resin (plastic). They are some of the most popular small storage sheds on the market. The smaller horizontal models can also be used as patio boxes and deck boxes Rubbermaid is a well known brand and their products have long been trusted by many for durability and strength. The Rubbermaid models come in a wide variety of sizes, in both horizontal and vertical models, ranging from a few square feet to larger full size storage sheds.
From the manufacturer:
Rubbermaid storage sheds are always maintenance free and will not rust, fade, split, or peel. They also assemble easily with basic tools.
Vertical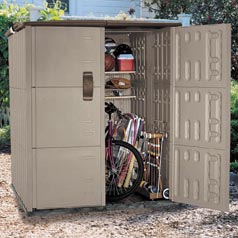 The vertical models include full size storage sheds as well as what I would call "garden closets" or small upright storage units. These are great for organizing yard and garden tools, bikes, toys and other yard stuff.
Features: Freestanding and weather-resistant Durable double-wall resin panels lock together quickly and easily Heavy-duty structural foam floor has angled entry ramp Easily assembled with basic tools Hasp for padlock (not included) Structural foam floor supports up to 1300 lbs. Shed has molded-in grooves to accommodate up to six wood shelves (shelves not included). Molded-in anchor grooves permit anchoring into the ground. Angled entry ramp facilitates the wheeling of equipment or machines into shed. Dark platinum with mocha roof and black floor.Two lockable front doors for easy access.
Horizontal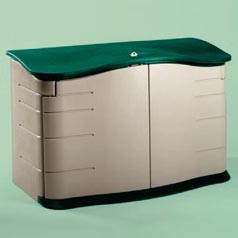 The horizontal units, also known as deck or patio boxes, can be used to store garden and yard tools, lawn, pool and pest chemicals, and other outdoor gear that needs to be kept dry. These are also commonly used as garbage bins for keeping the garbage cans dry and secure from animals and wind.
Features: Freestanding and weather resistant Interlocking double-wall blow molded panels for strength and durability Tough, durable floor included Easily assembled in less than 30 minutes Hasp for a padlock (not included) Six interlocking panels. Molded-in grooves for one shelf (not included). Lid prop bar included. Molded-in anchor grooves give the option of attaching to another structure or anchoring into the ground.
Check Pricing on Rubbermaid Outdoor Sheds:
Betty Mills | eBay | Amazon
Keywords: Rubbermaid, storage shed, horizontal, vertical, plastic, deck, patio, boxes
---
Comments & Reviews:
No comments or reviews yet.