Storage Shed Kits » New England » Cool Motorcycle Garages
Cool Motorcycle Garages
Need a cool place to keep your bike? Check out our do it yourself post and beam building kits.
Build a New Motorcycle Garage!
Pictured below is a 12' x 16' Classic Cape style building with a bunch of options, including a sliding barn door. This would make a cool motorcycle garage!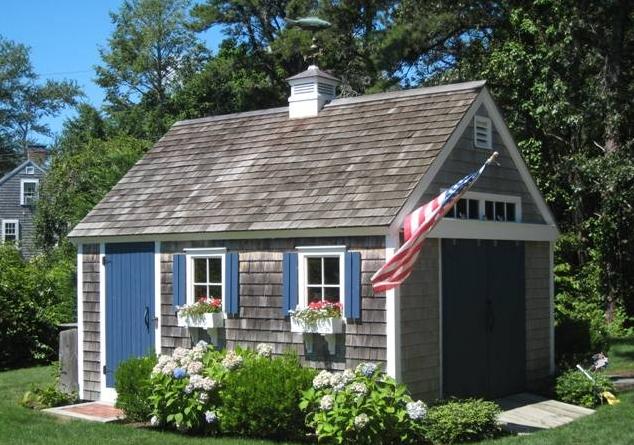 All of our basic do-it-yourself post and beam building kits are designed to be assembled by a novice carpenter as a weekend project.
Get a free quote. There is no obligation and you are not required to submit any payment information.
Outside of New England? Download our Post and Beam Building Guide and build your own post and beam buildings from 6' x 8' to 12' x 24' and beyond!
Building Size
Depending on how many bikes you need to store and whether you want room for shelving, closets, etc… you will probably want at least a 10′ x 12′ building. These buildings are available up to 12′ x 24′ which can easily fit two bikes and all your other stuff.
Doors
All of our building kits come standard with one 3′ door.
For a motorcycle shed, you will want at least one 6′ double door. If you have the room in your yard, you can put a 6′ double door at each end and make it a drive through bike garage. We offer some other door options as well.
Floor
Ideally the best floor or foundation surface for your motorcycle shed would be to build it on a concrete slab. This will also keep the shed at ground level which will make getting your bikes in and out easier. If you want to build on a slab, we offer a no-floor credit.
If you are not building your mini garage on a concrete slab, you will want to beef up your floor framing and sheathing as well as your "foundation". If you are using a wood framed floor, you will also need a number of extra solid cement blocks or concrete filled sona tubes to support your floor framing. Some of this may depend on your local building codes and/or the size of the building you are installing. We offer the following floor upgrades:
If you need something different than you see here or have other floor/foundation needs or questions, just let us know.
Windows
Our standard Classic even pitch building kits include one or two windows. All our post and beam building kits include one or two 22" x 28" 4-lite stationary window(s). (One window on 12' or smaller length buildings and two windows on 14' or larger buildings.)
Lofts and Shelving
Need some interior storage solutions for your motorcycle shed?
All of our Classic even pitch buildings come standard with one 4′ storage loft. Adding another loft will take advantage of more overhead storage space that is available in our Classic even pitch building.
Appearance
Our standard building kits come with premium quality vertical pine board and batten siding with rough sawn pine trim.
We offer several trim upgrades and roofing options so you can match the look of your house or just improve the appearance of your new motorcycle garage.
---
Build a Shed
Please select a shed, add your desired options and get a FREE no obligation quote on one of our post and beam building kits.
Outside of the New England area? Check out our post & beam shed plans
motorcycle, shed, mini-barn, mini garage, building kits, sheds, motorcycle storage shed
Storage Shed Kits » New England » Cool Motorcycle Garages